What is a Biometric Registration?
The Biometric registration process involves registering your personal data (photo, fingerprint, and a short interview with an immigration officer) in order to allow a limited stay in Bali/ Indonesia.
Which type of stay permit In Indonesia requires a Biometric registration?
procedure
is exactly the
same for all
of them.
You need to do a Biometric session
1 time for each permit
at the first extension/registration.
Anytime you apply for a
new stay permit
even if you are still in Bali, you will have to do
biometric registration
all over
again
.
EXAMPLE: During this NEW Normal period you are in Bali on a Social Visa. You already did the extension at immigration once and before it expires you decide to apply for a new one. You need to do Biometrics again on your first extension of your new visa!
Only for Visa On Arrival (the 2 months Visa) if the Immigration of Indonesia will make it available again, (right now only
Business Visa B211A
are allowed into the country) the extension procedure is a little bit different.
The procedure of Biometric Step by step ( Immigration Denpasar)
1) Billing Code and Appointment at Immigration
Let's go through the procedure together. First of all you have already applied (you or your visa agency) for your limited stay permit (Visa, KITAS, etc.) in Indonesia and you already got your e-visa (it's called like this even for KITAS).
14 days before the e-Visa expires and you decide to extend your stay, you need to submit your passport and register/extend your stay permit or by yourself or with a more hassle free option through a
visa agency
.
It's important that you
start
the procedure
2 weeks before
your
e- Visa expires
otherwise you may encounter yourself in an overstay status, with the risk of paying a fine and being deported.
As a result you will get a document with a QR- code called
Billing Code
and a
schedule
to go to Immigration
for Biometrics
. From the scheduled you have up to 7 days to get to the immigration and for the time is usually in the morning.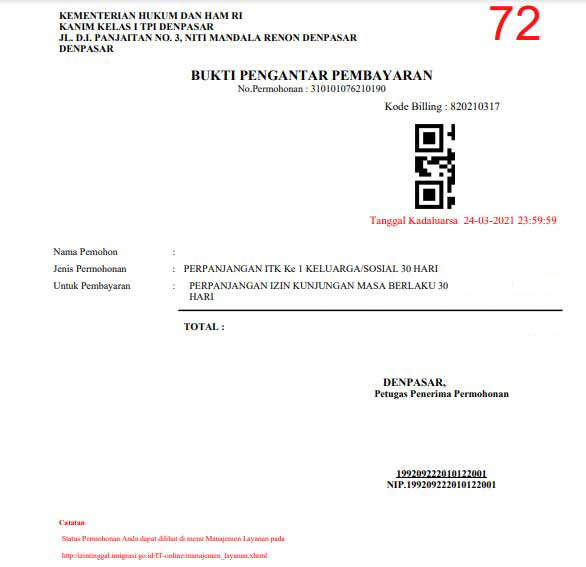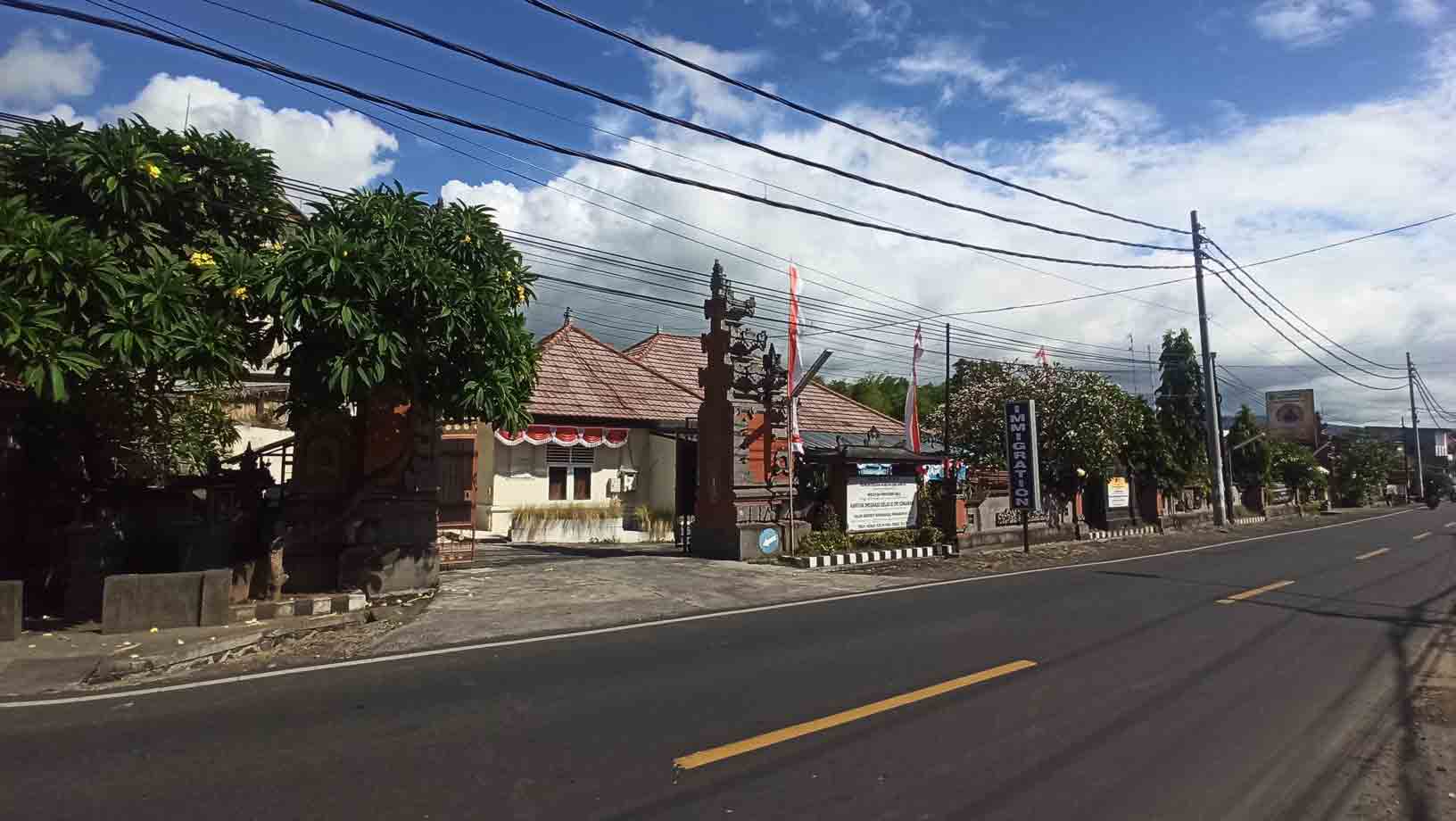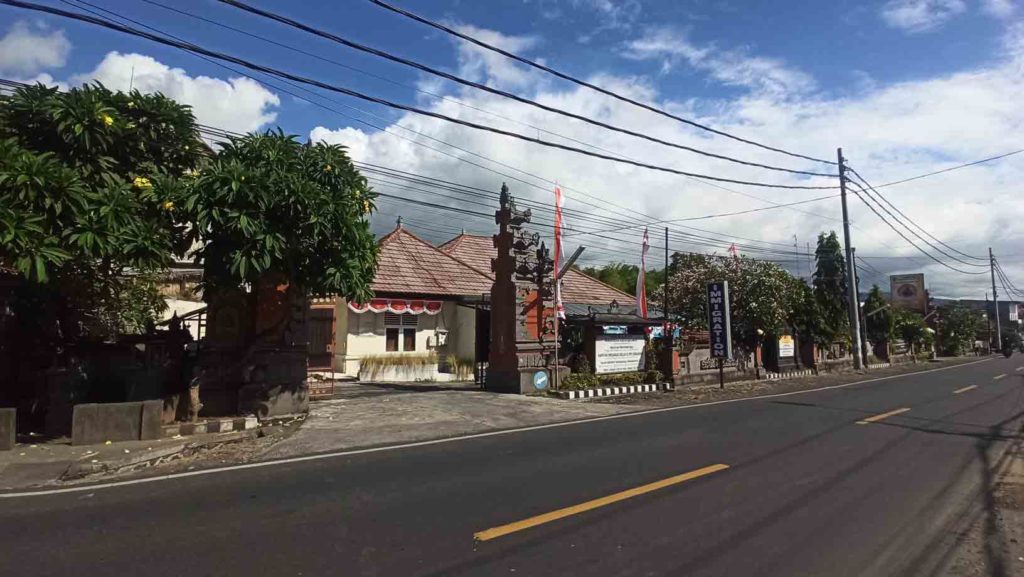 Make sure to bring your
billing code
(digital version is enough); your
passport
will be already at the immigration. There are
3 Immigration office locations in Bali
:
choose
the
immigration office
that is closest to your home. NOTE: In this guide the experience description is for the Immigration in Denpasar, but we assure you that the steps are the same for all Immigrations in Bali.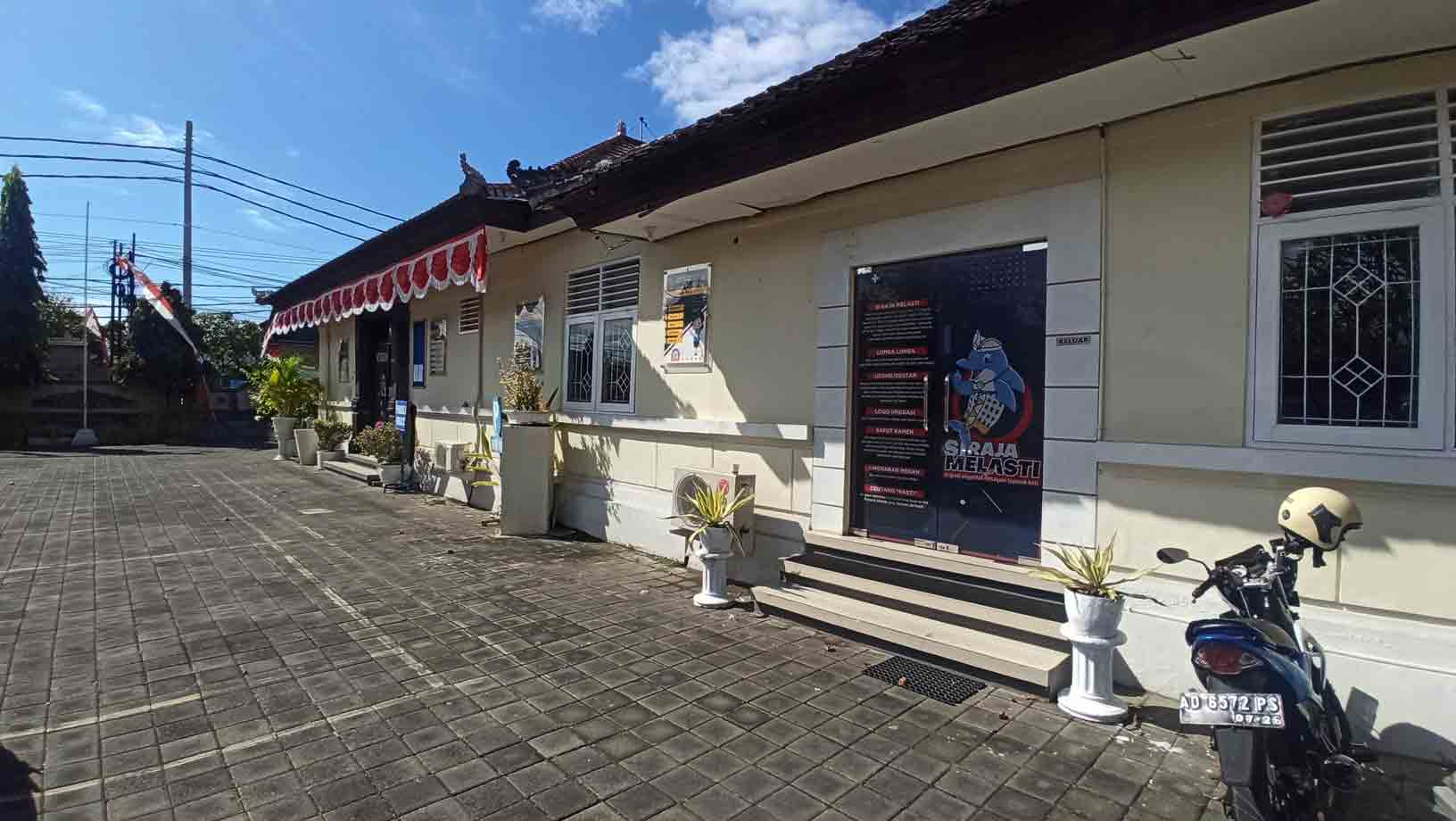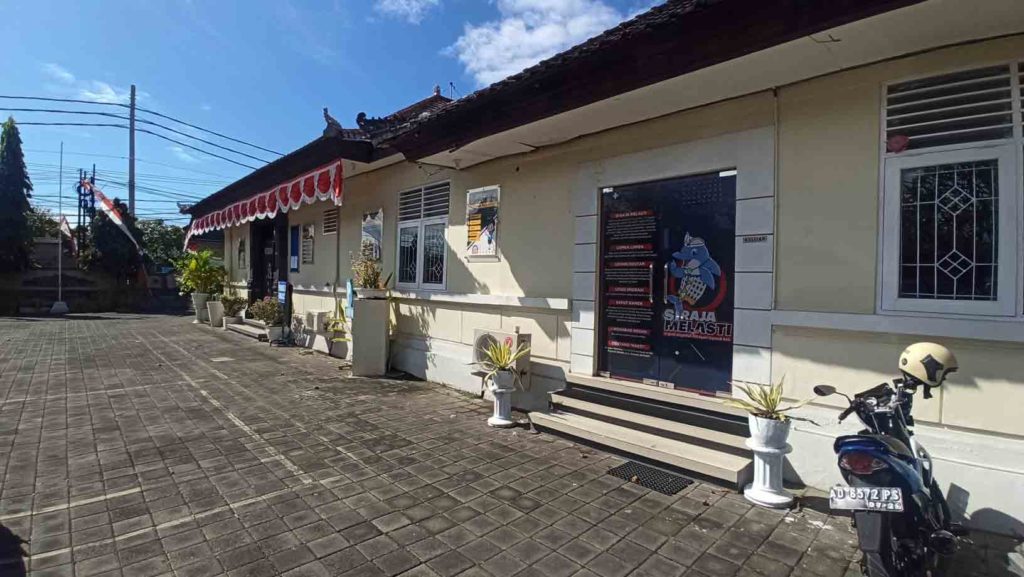 2) Bring documents for the Biometric
And remember to
wear long pants
and to
cover your shoulders
as it is the dress code accepted by Immigration offices in Indonesia.
Wearing a mask is also important! There have been many people rejected to enter the Immigration because they were not following the dressing rules.
3) Get to the Immigration in Denpasar
The
easiest way
to reach locations around Bali is definitely
by scooter
and so is for the Immigration in Denpasar. If you rent one or you plan to rent one just for the day you just have to follow the
directions on Google Maps
.
When you arrive, do not park outside the offices (you will be charged), but please park in the motorbike areas, they are free for all Immigration visitors.
If you feel not comfortable driving a bike, you still can get here with a
motorbike taxi
: you can use the popular apps in Bali are Grab and Gojek.
Otherwise you can come with a
car
(usually you will have to park outside as all the carpark lots are full in the Immigration) or a
taxi car
.
Another type of transport that is starting to get implemented and will develop more in Bali are
public buses
. Download the app Teman Bus or visit the site
Teman Bus
and you will get all the info on how to reach Immigration Office in Denpasar from your location.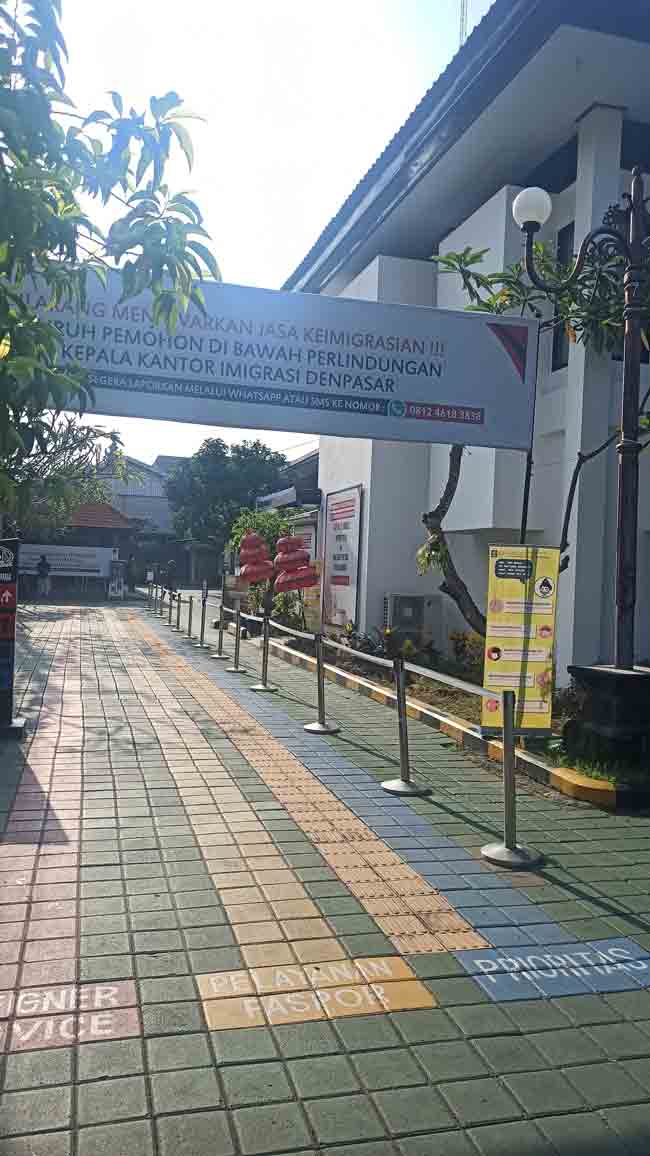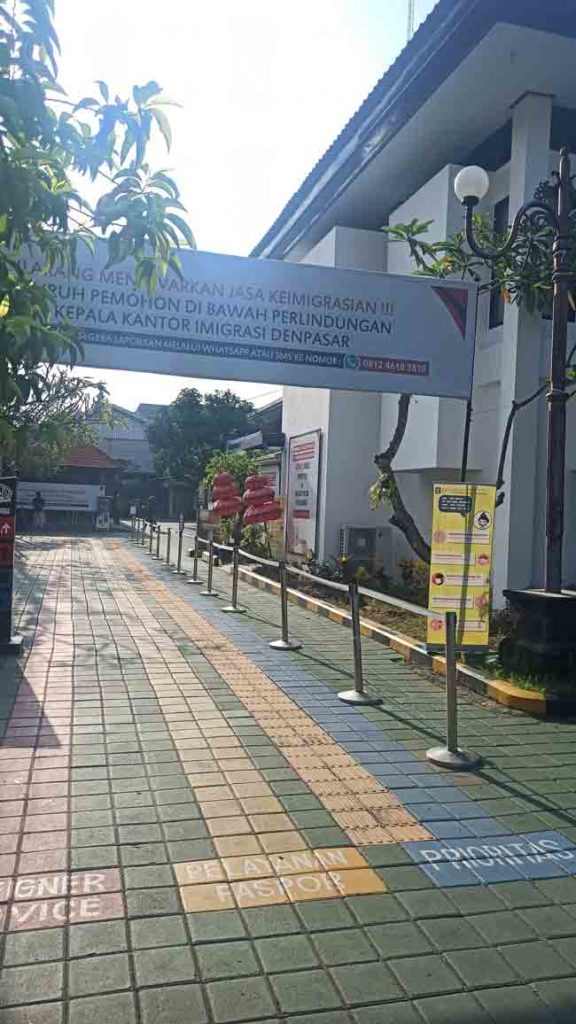 Tips to avoid long queues and waiting time
You can complete your Biometrics registration more efficiently and quickly if you arrive early.

Try to get there when the Immigration office opens at 8:00 Denpasar time and you will finish probably in less than 45 minutes.

If you arrived a little bit late or if that day everyone woke up early, and you need to wait for a long time there are some local places around the Immigration where you can take a rest and grab some snacks and coffee.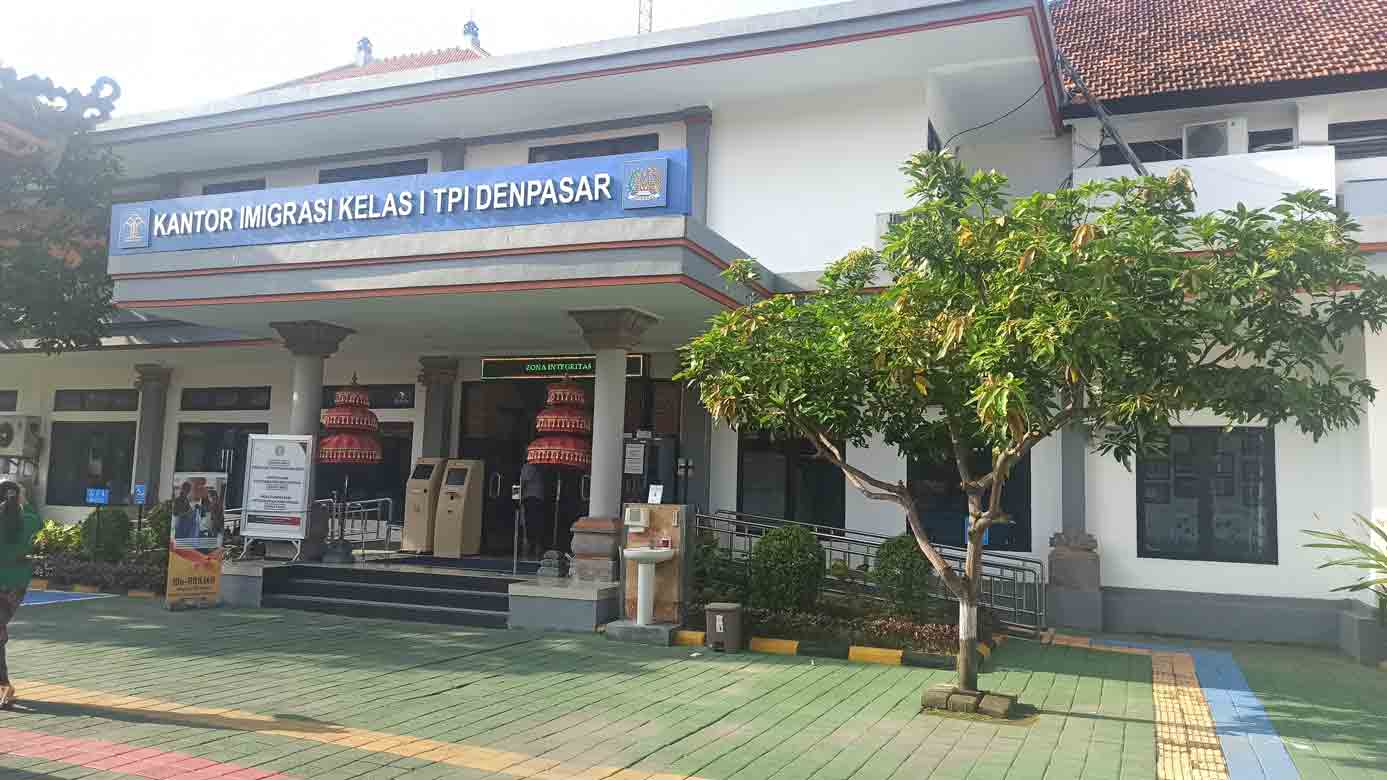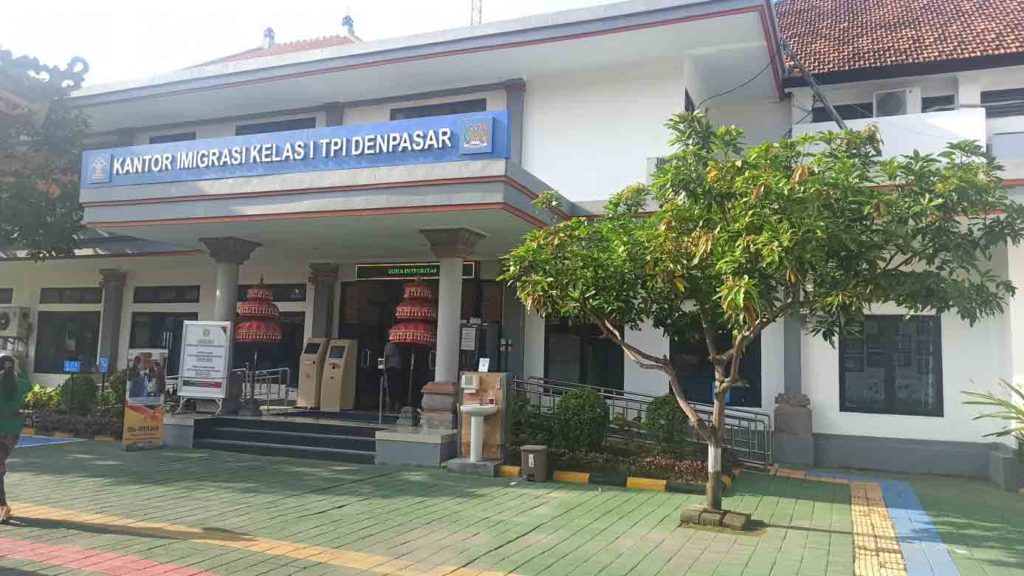 4) Grab your ticket and wait for your turn
But now let's get back to the procedure. You arrived at the Immigration and in the open area there will be a security from the Immigration that will check for your temperature and that you have a mask on.

Then you will have to walk a bit, wash your hands and enter from the main entrance of the Immigration.

Once you are in the office go to the right all the way to the end. If it's the first time that you come here, you can ask the Immigration staff where to do Biometrics; they are very friendly and they will usually accompany you.

Then you will have to go to Counter 4 and show your billing code to the employee.

You will receive a ticket with your number usually preceded by a letter C.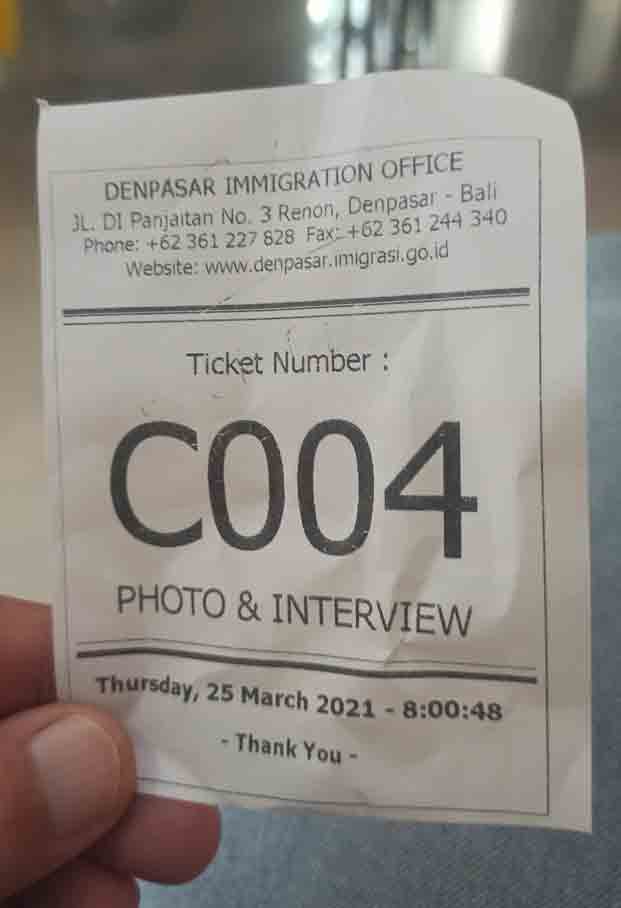 5) Photo, Fingerprints and Interview
Waith for your turn and on the screen you will see in what room for biometrics you will have to go.

It's your turn! Now that you are in the room, the officer will start by taking a picture of you, they will take your fingerprints one by one and they will ask you to sign on a digital board.

Sometimes the officer will ask you some generic question, like: " How long do you plan to stay in Bali?" ; " Where do you stay in Bali?".

And that's it! You're done!! Easy ya!? Now you just have to wait to get back your passport with the correct stamp depending on your type of stay permit. (usually around 4-5 days)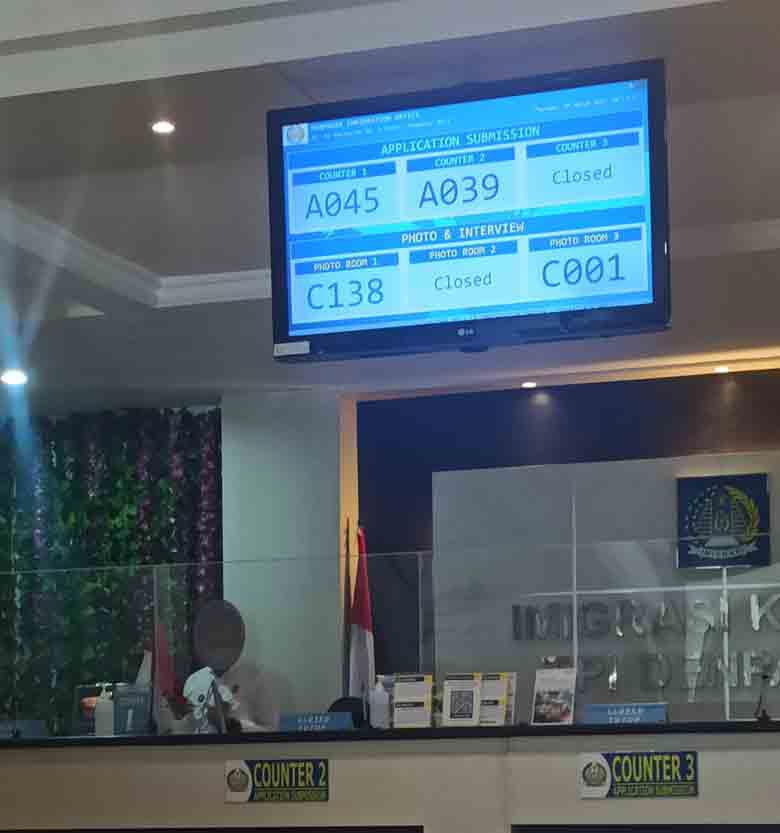 Procedure at Immigration in Jimbaran (Ngurah Rai)
For the
Immigration Ngurah Rai
which is located in Jimbaran close to Nusa Dua, the procedure is almost the same as the one in Denpasar.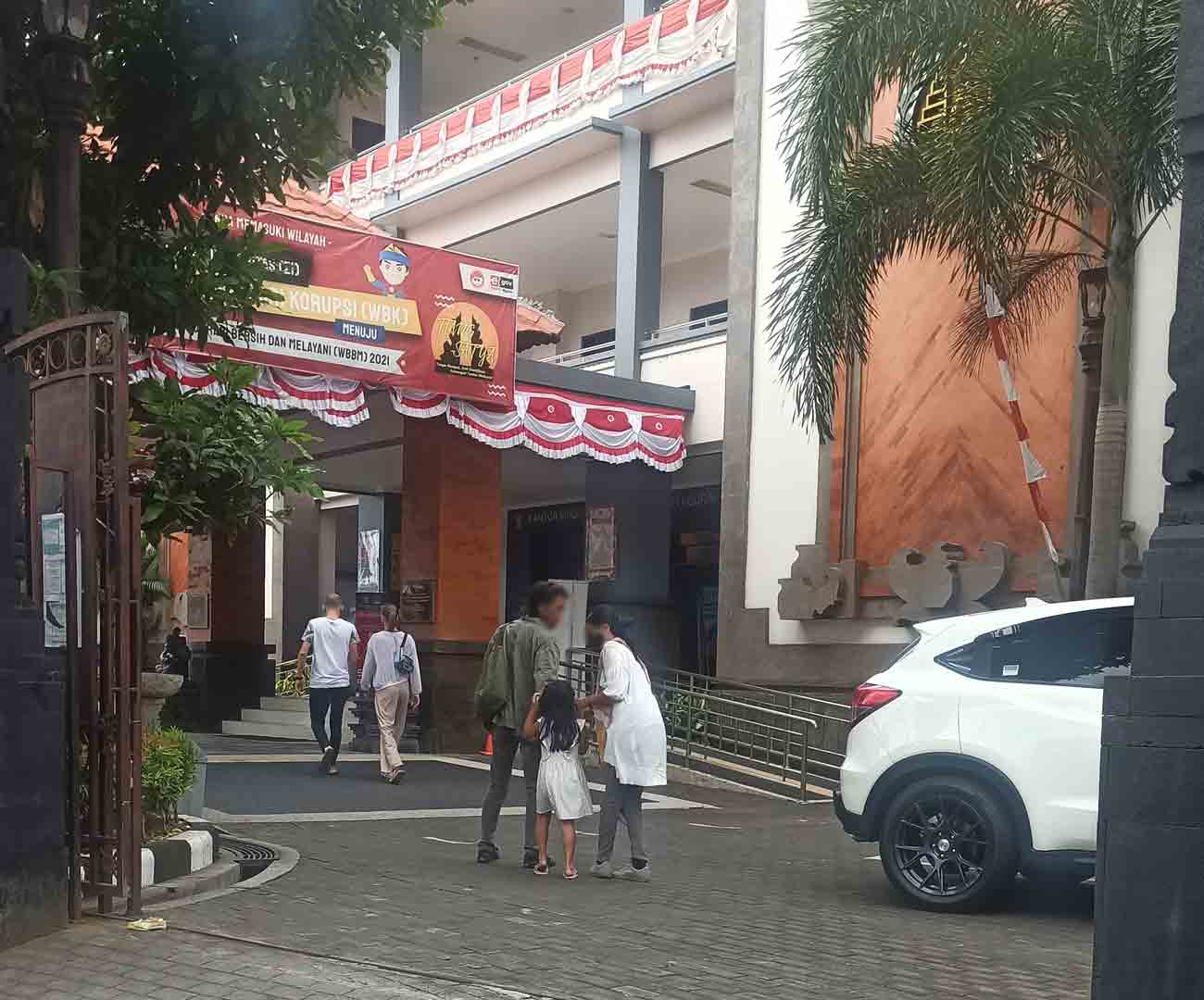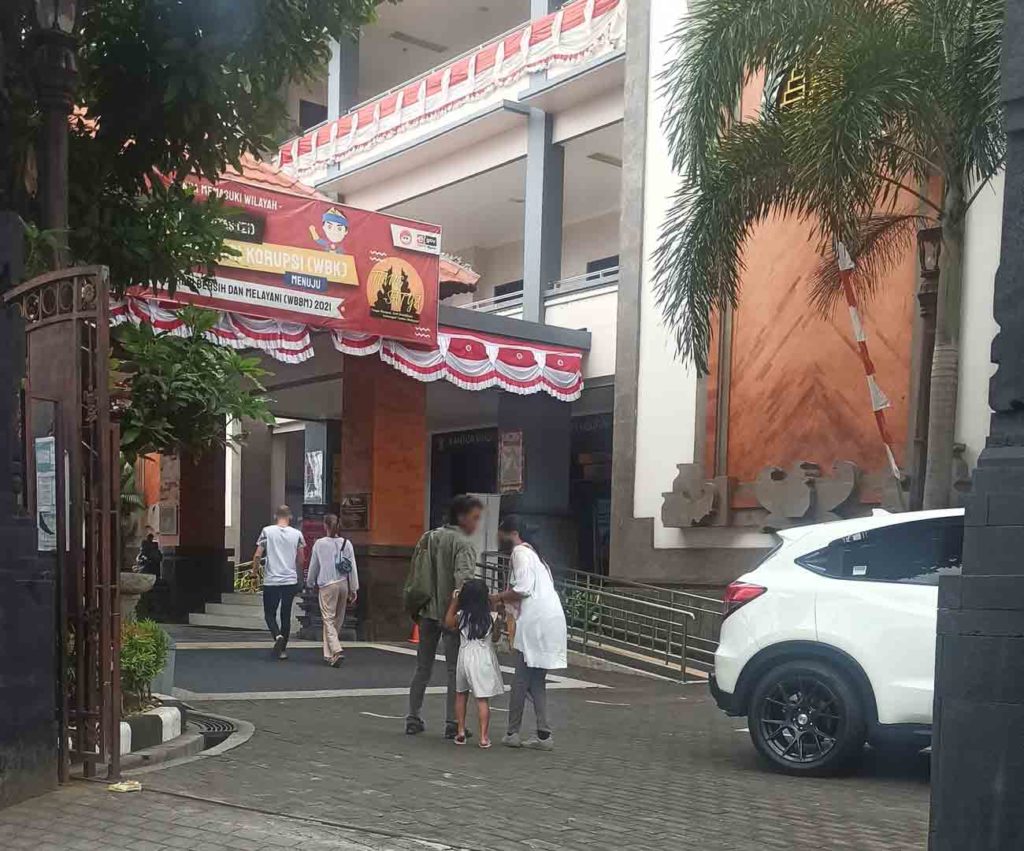 To get here you could rent a bike, car or simply grab a Gojek or a taxi. Convenient for who is coming from Denpasar, Sanur area to use the toll road (each way is IDR 5.000). It's very quick, you will avoid traffic and it takes only 20 minutes to reach Jimbaran from Denpasar area.

Just remember that you need a toll card with money inside that you can buy and recharge at every Minimarket in Bali.

If you arrive at the Immigration Ngurah Rai with your own vehicle, you will have to pay a parking ticket ( at the Immigration in Denpasar it's free) and remember to ask for the ticket to not get charged a higher price.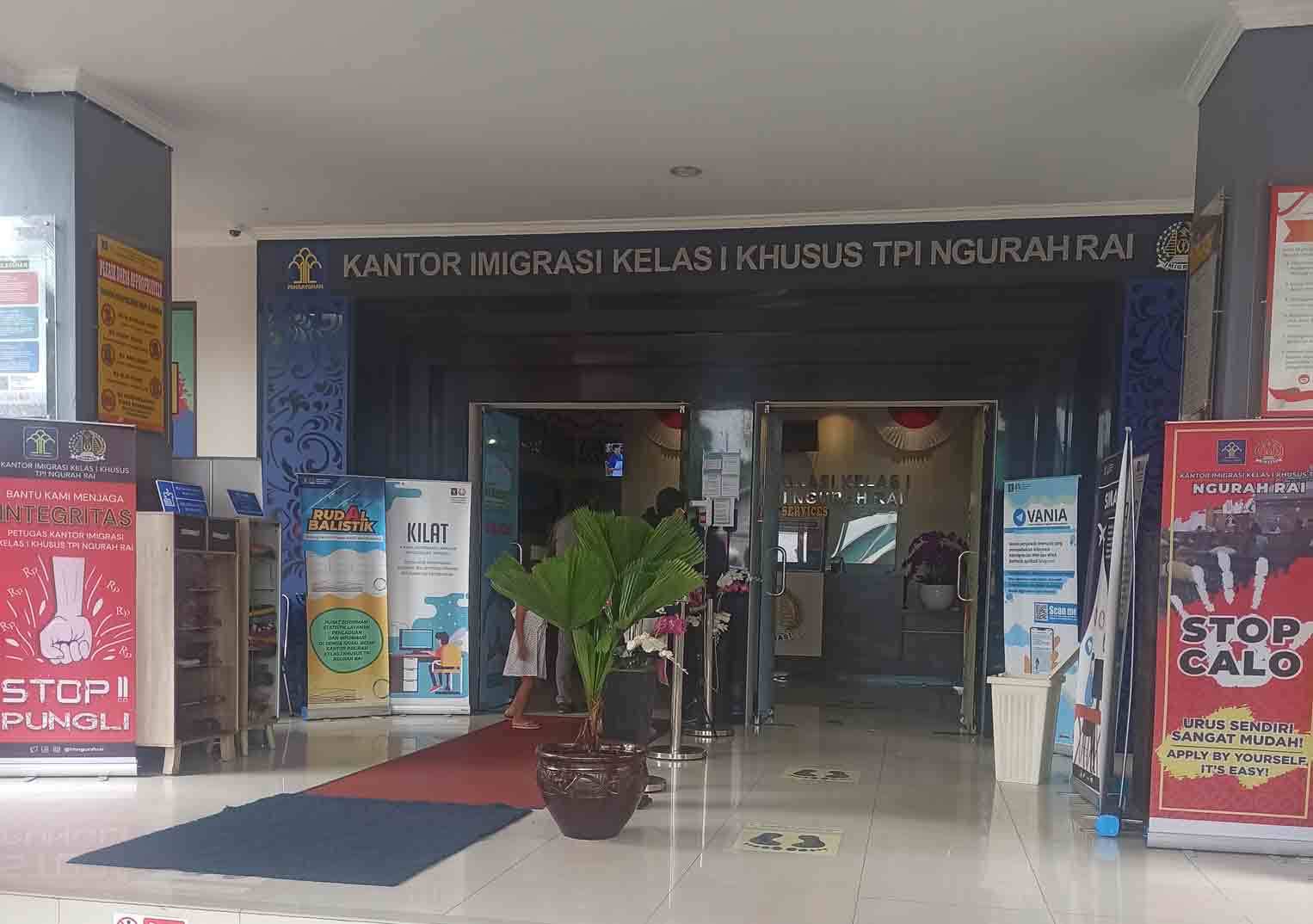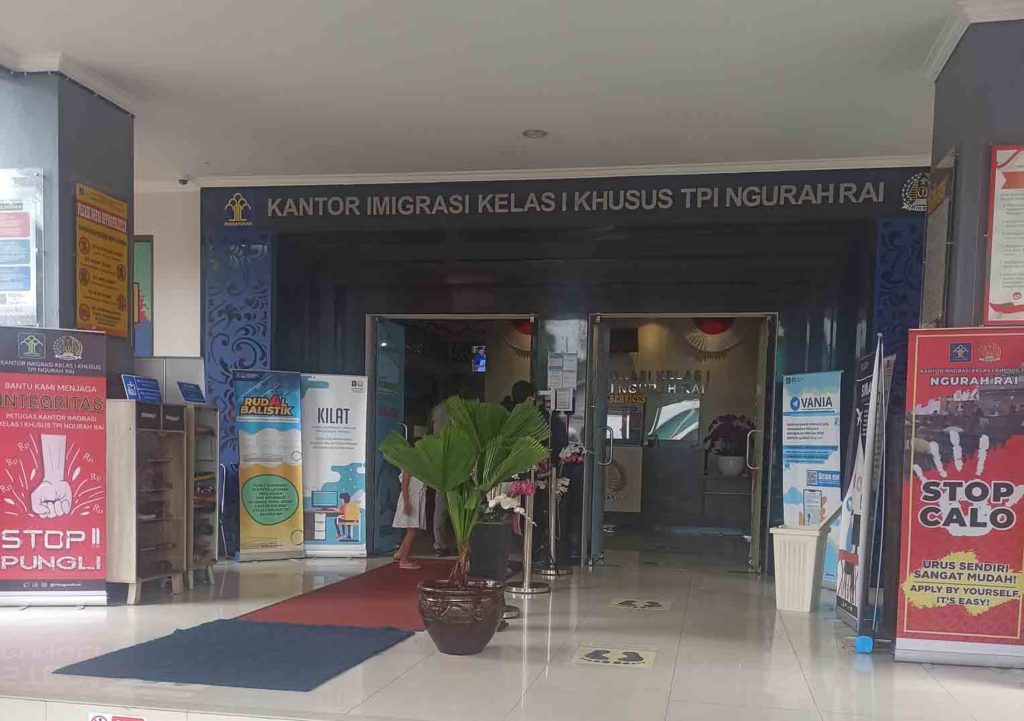 Wash your hands, check the temperature and straight after the entrance you will find the main counter.

Say you have appointment for Biometrics, and you will get a ticket with letter D (at the time this was the letter we got for biometrics).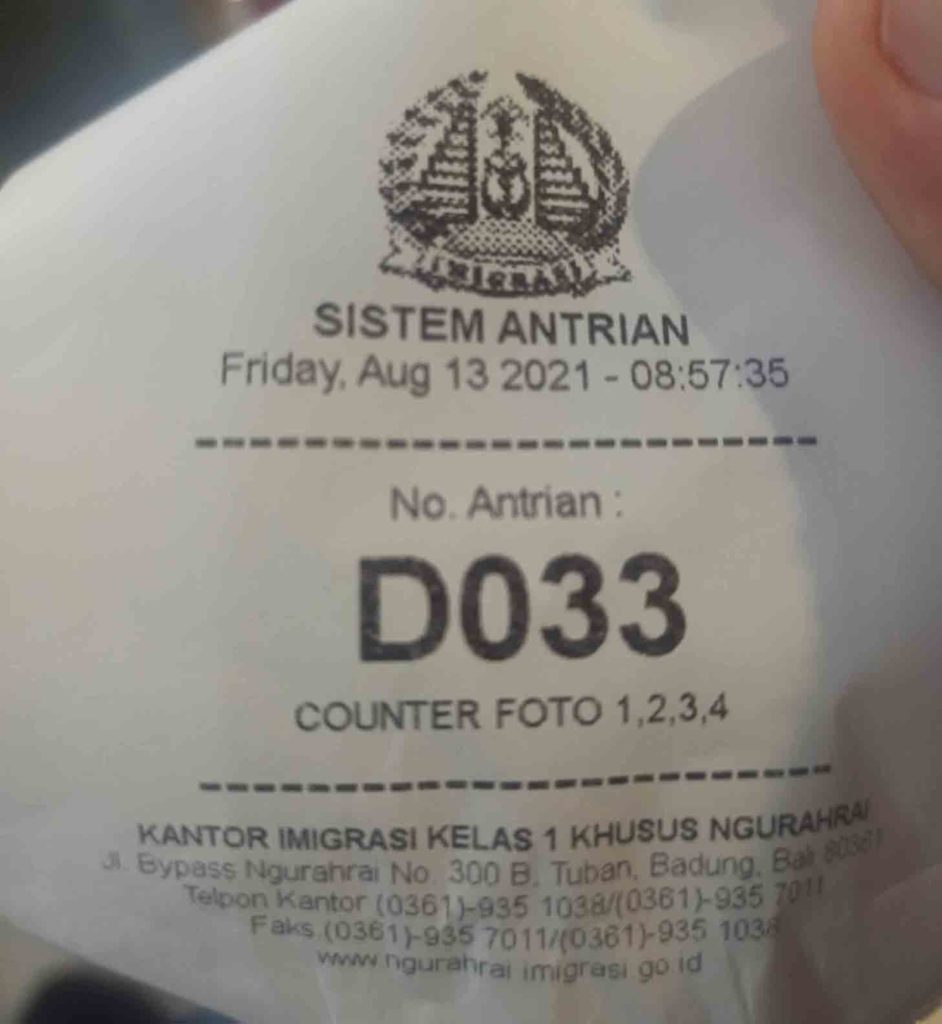 You can have a sit at the waiting area, which is very comfortable and with ample of spaces. You can admire the Balinese architecture, something that we really enjoyed.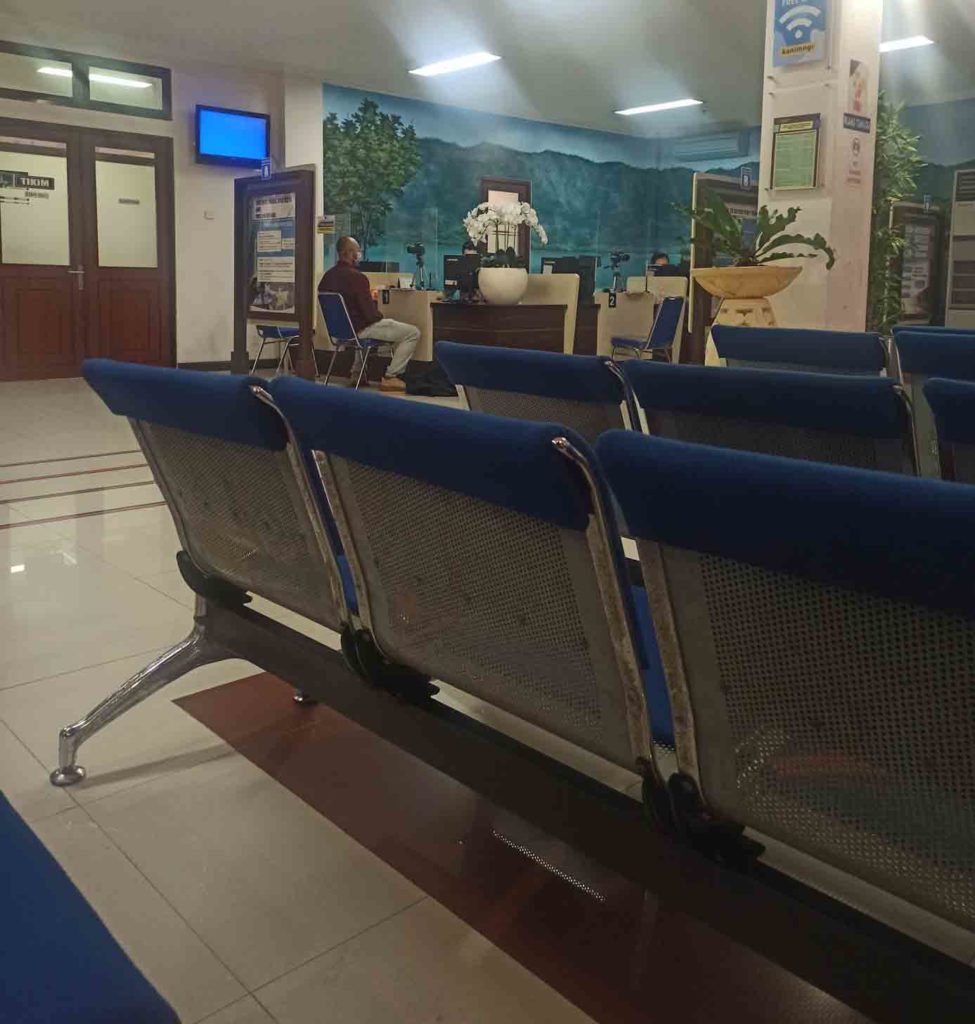 Wait your turn that you can see from the big display, and walk to your designated counter which are located just on the left of the waiting area.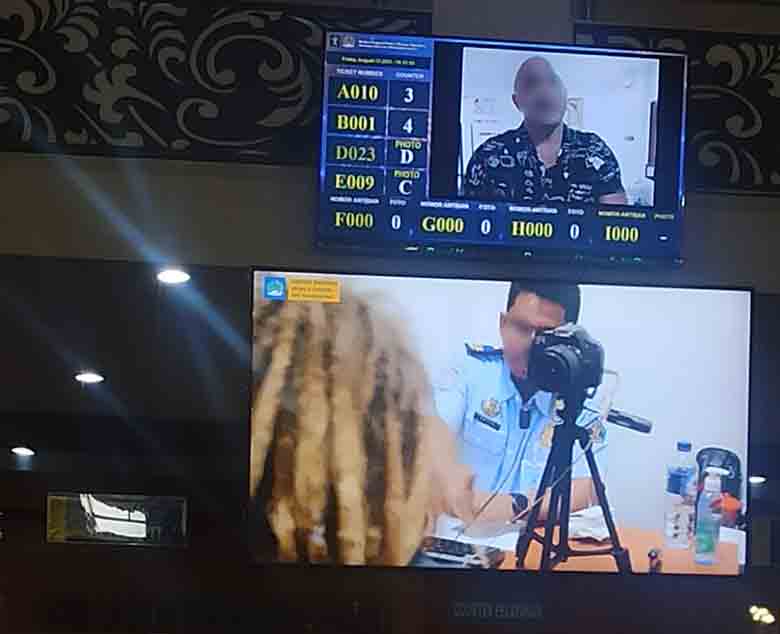 Show your billing code to the officer and after picture and fingerprints, you will receive back your ticket with a stamp "Photo OK". Keep that ticket until you get back your passport back, just in case.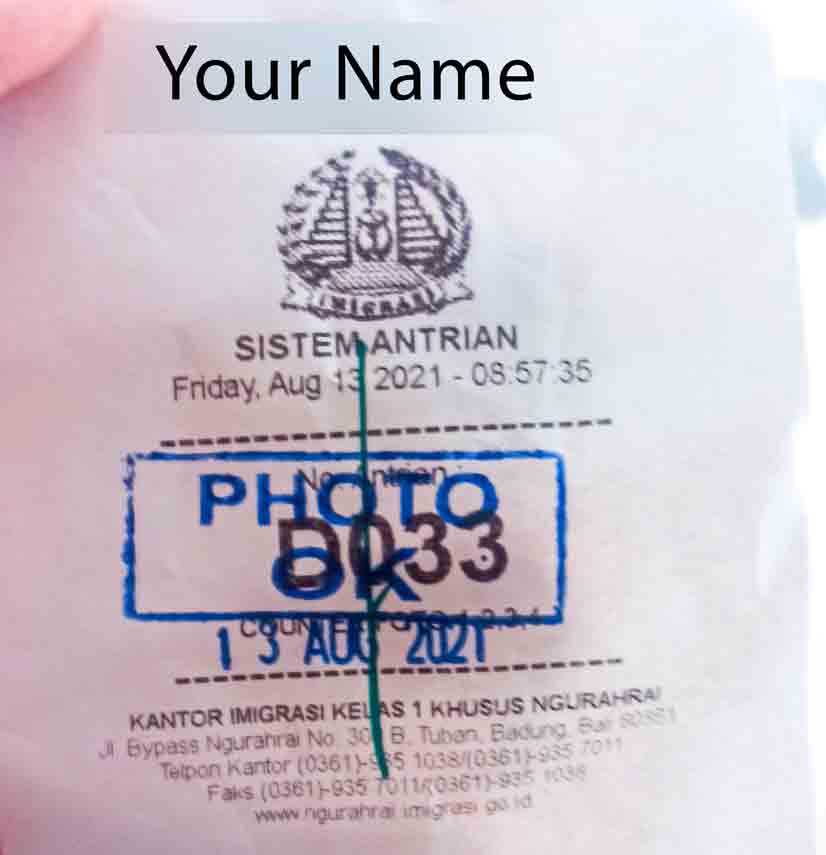 Summing up Biometric registration in Bali
We hope that this guide will help you to understand and to give you more information about the Biometric registration in Bali.


Remember to bring your passport and Billing Code! In case you were unable to submit your passport 2 weeks before the e- Visa expires, contact us we will try our best to speed up the procedure for you.


Please share it with your friends and let us know in the comment below if your experience was as smooth as ours!!