Bali as a glamping destination
Welcome to Bali, where you'll find a tropical paradise merged with the luxury of glamping.

Imagine waking up to palm leaves rustling, waves gently crashing nearby, and the scent of fresh, exotic blooms in the air.
Bali isn't just a place; it's an immersive experience that blurs the lines between adventure and relaxation.

In this post, we invite you to explore Bali's 6 Best Glamping Destinations, where nature becomes your neighbor.
Bali's 6 Best Glamping Destinations
You can enjoy glamping across various parts of the island, from East to West and even on the surrounding islands.

The best way to reach these serene countryside spots is by renting a motorbike. If you haven't done that yet, Gaya Bali Visa can assist you in finding the perfect one!
Before we explore in depth this glamping spots let's talk about why glamping in Bali is an experience like no other.
The Art of Glamping in Bali: Where Luxury Meets the Great Outdoors
Bali has long attracted travelers with its stunning landscapes and vibrant culture. While you'll find plenty of guesthouses and hotels, glamping offers a unique way to experience nature's beauty.
It's a blend of glamour and camping, where you can enjoy the comforts of a hotel while immersing yourself in the great outdoors.
Picture yourself in a beautifully appointed tent or a luxurious treehouse, surrounded by Bali's untouched beauty.

Each morning, you'll wake up to breathtaking views, and each night, you'll fall asleep to the soothing sounds of nature. Glamping in Bali lets you savor the island's natural wonders without giving up comfort.
Exploring Bali's 6 Glamping Destinations: Freedom with Scooter Rentals
To make your glamping adventure even more accessible, we offer scooter rentals, allowing you to explore Bali at your own pace.

Feel the wind in your hair as you zip through scenic roads, discovering hidden beaches, terraced rice fields, and charming villages along the way. It's the freedom to venture off the beaten path and create your own Bali adventure.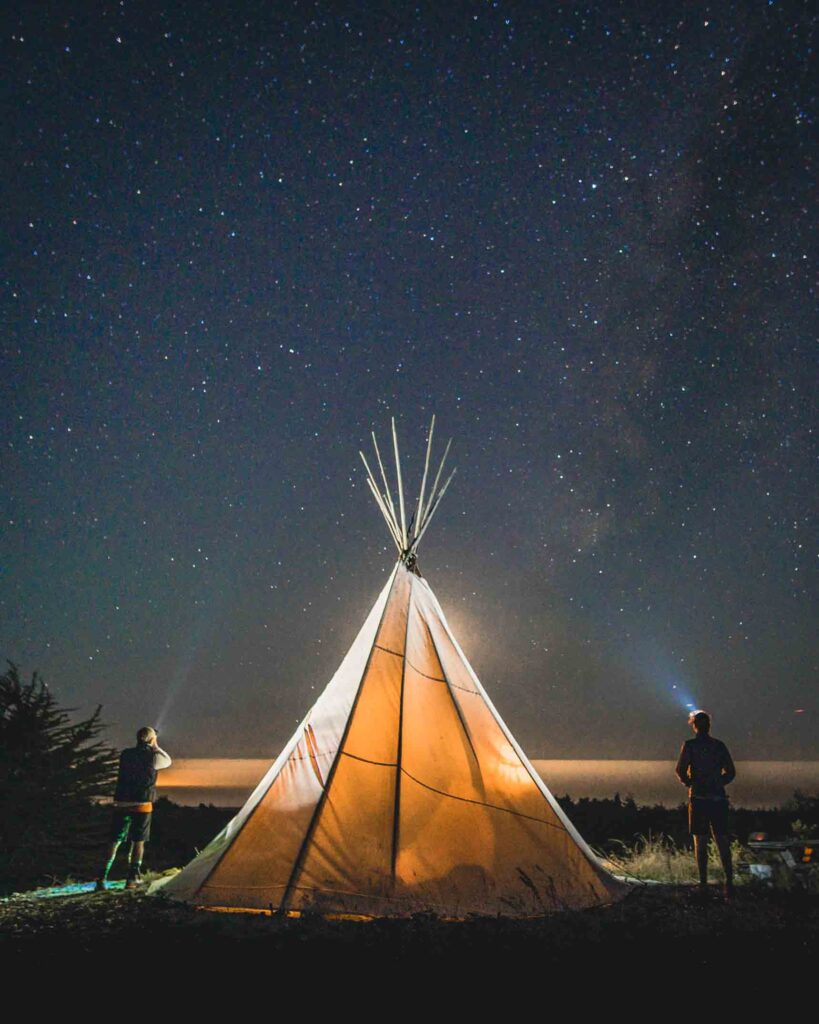 Visa Extensions for Extended Adventures in Bali
For those seeking a more extended stay in Bali, we also provide visa extension services. Don't rush your journey; instead, extend your time in this island paradise.
If you're not in Bali yet and plan to stay a while, we can arrange a Bali Offshore Visa, allowing you to stay in Bali/Indonesia for up to 180 days.
With a longer visa, you can immerse yourself in Bali's outdoor adventures, from trekking in lush jungles to diving in crystal-clear waters.
Your Guide to Bali's Best Glamping Destinations
Whether you're a glamping enthusiast, an outdoor adventurer, or simply someone who craves a taste of Bali's magic, this post is your guide to the best glamping destinations on the island.
Now, let's take a closer look at these 6 outstanding glamping spots one by one, exploring their prices, locations, and unique features.
Discover the amazing world of this brand-new glamping camp, creating a buzz on social media thanks to its outstanding accommodations and breathtaking views.
Located right in the heart of the Kintamani highlands, it offers awe-inspiring panoramas of Mount Batur, Mount Abang, and Lake Batur.
Here's your opportunity to enjoy a genuinely unique and Instagram-ready getaway.
Location: Jl. Kb. Padangan, Padangan, Kec. Pupuan, Tabanan
Price Range: $25 – $50 per night
Website: www.balijunglecamping.com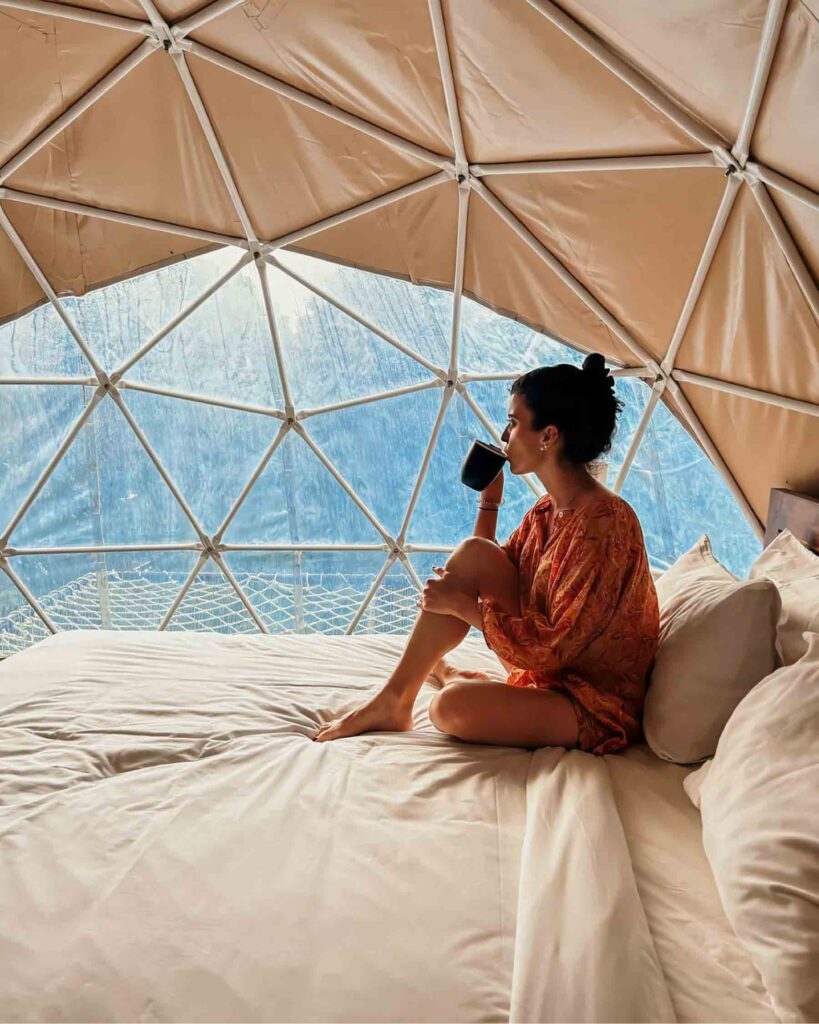 Explore the exciting world of this new glamping camp, making waves on social media for its exceptional accommodations and stunning views.
Situated in the heart of Kintamani highlands, it treats you to breathtaking vistas of Mount Batur, Mount Abang, and Lake Batur.
This is your chance to experience a truly unique and Instagram-worthy escape.
Location: Songan A, Kintamani, Bangli
Price Range: $50 – $100 per night
Website: hideawayglamping.com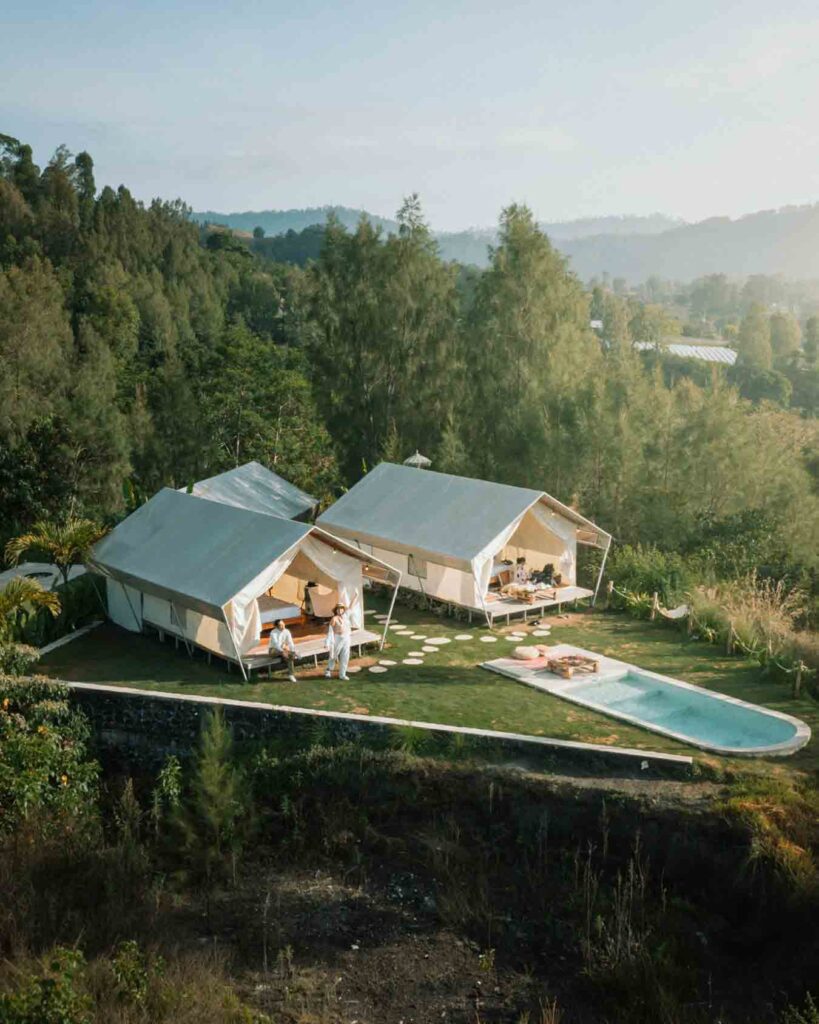 Feel the magic of Alam Caldera Camping, situated in a stunning natural paradise with captivating views. This roomy and cozy camping site provides an immersive experience.
You'll get to see the ever-changing beauty of your surroundings, from misty mountain peaks to sunlit orange horizons, making memories that will last.
Location: Jl. Windu Sara, Kedisan, Kintamani, Bangli
Price Range: $25 – $50 per night
Website: @alamcaldera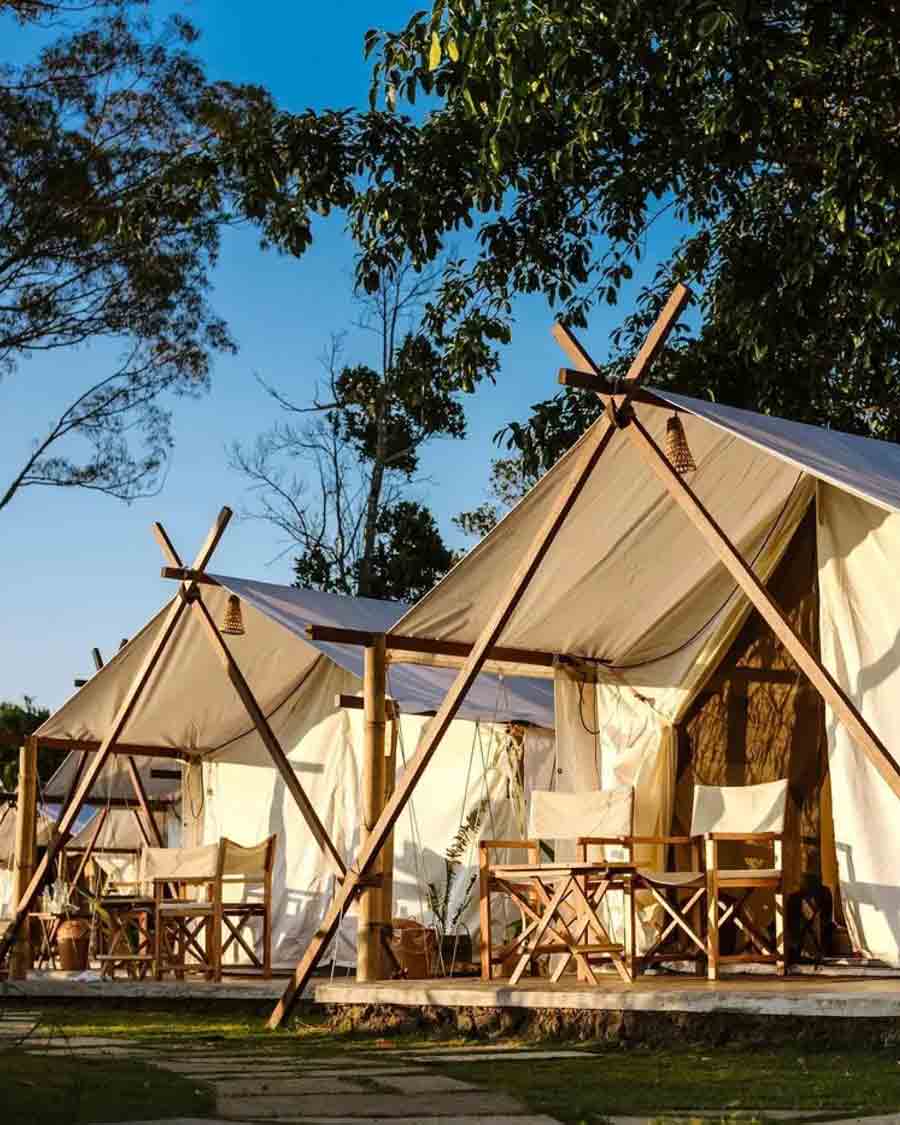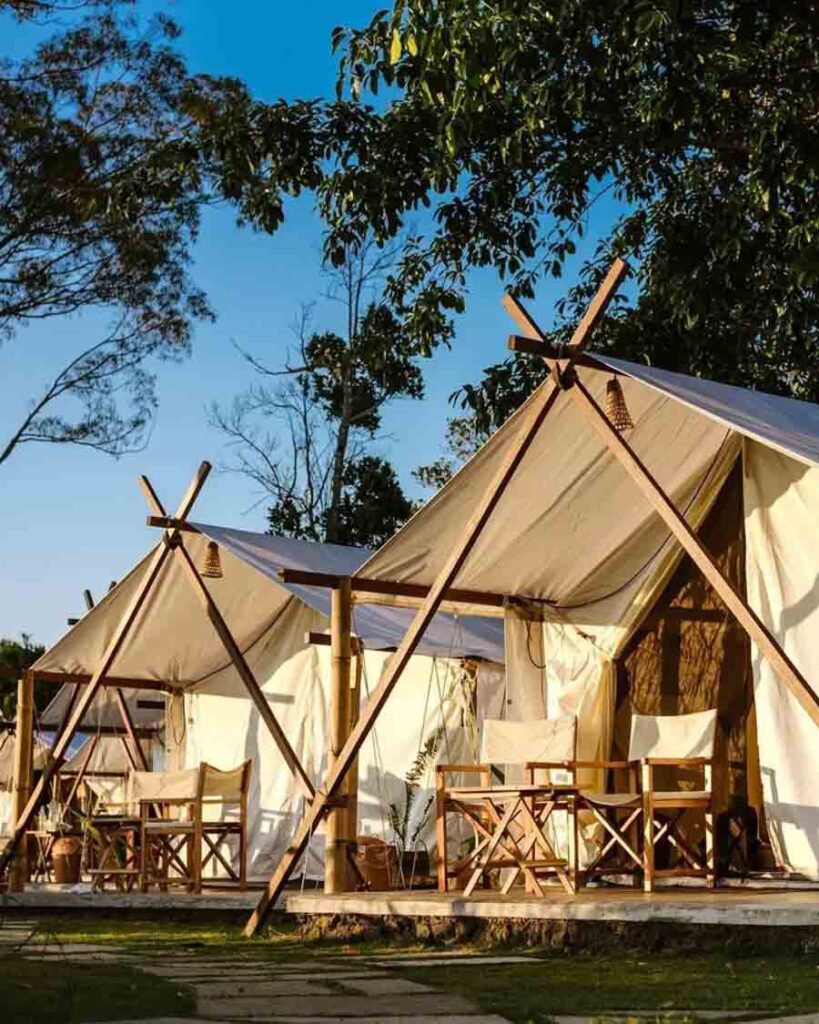 4. Menjangan Dynasty Resort, West Bali National Park
Uncover a hidden treasure in North Bali – an exotic resort that guarantees peace and incredible views of a calm lagoon, visible from both the beach and the pool.
At this glamping resort, you can choose to rent kayaks and paddleboards for a water adventure.
It effortlessly combines luxury with nature, featuring top-notch African safari tents that bring you closer to the outdoors while delivering all the modern comforts of home.
And, when night falls, make sure not to miss the chance to gaze at the stars and be enchanted by the night sky.
Location: Pejarakan, Gerokgak, Buleleng
Price Range: $200 – $400 per night
Website: www.mdr.pphotels.com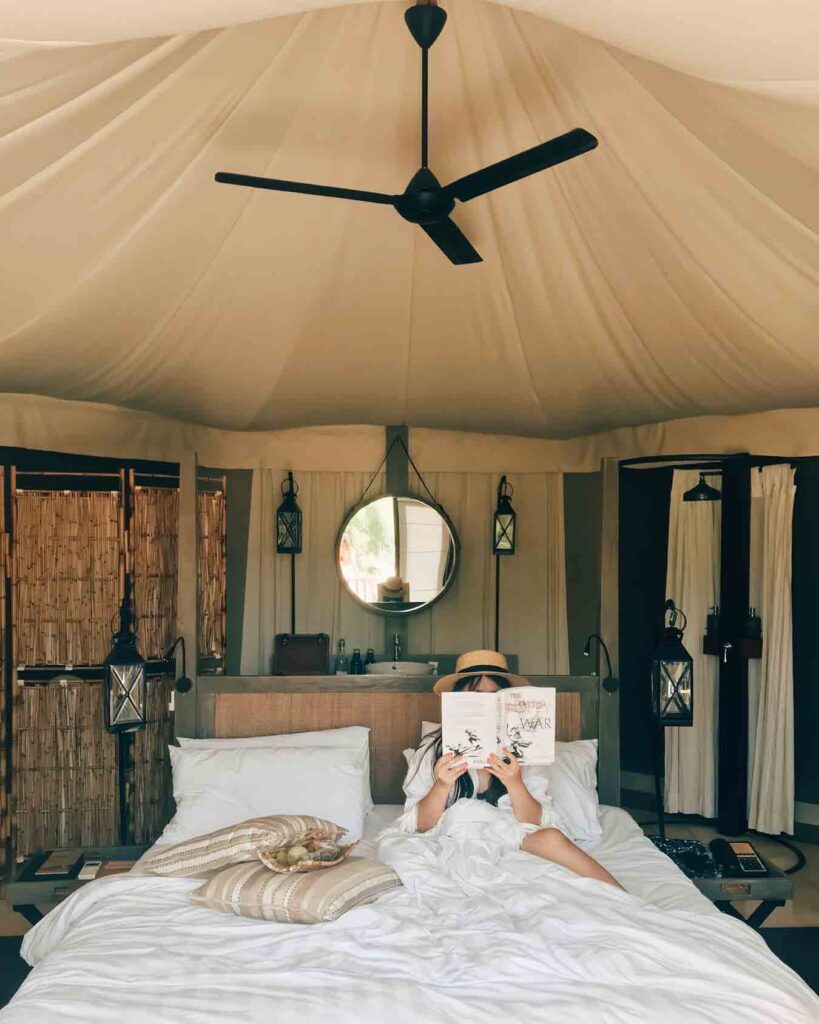 5. Autentik Penida Glamping, Nusa Penida
Welcome to a recently opened, incredibly lovely place that ensures a lavish and peaceful getaway.
Tucked away amidst Bali's lush forests and rice fields, it offers breathtaking views. You can easily explore nearby villages for an authentic experience of Balinese life.
Surrounded by the natural sounds of the jungle, you'll discover a real escape from the hustle and bustle of city life, giving you the chance to relax and revitalize.
Location: Jalan Crystal Bay, Nusa Penida
Price Range: $100 – $200 per night
Website: @autentik_penida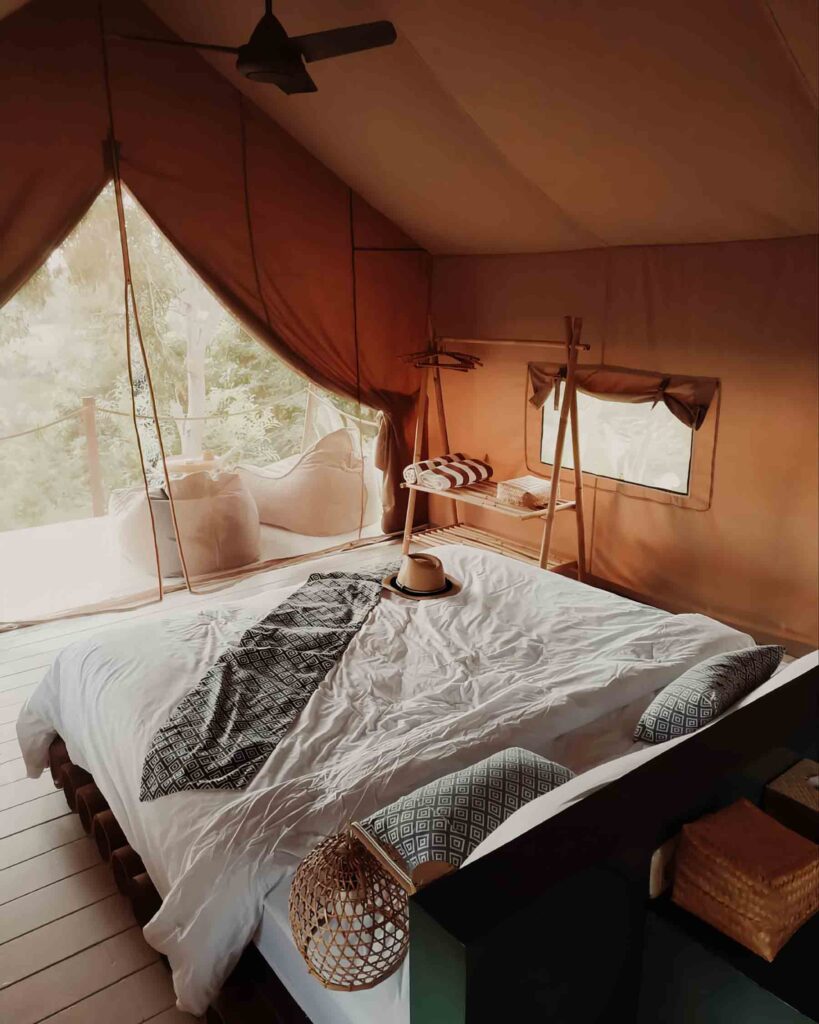 Welcome to a newly opened, stunningly beautiful venue that promises a luxurious and serene retreat.
Nestled amid Bali's lush jungle and rice fields, it provides breathtaking vistas. Enjoy easy access to nearby villages for an authentic taste of Balinese life.
Immersed in the jungle's natural sounds, you'll find a true escape from the hustle and bustle of city life, allowing you to unwind and rejuvenate.
Location: Manggis, Karangasem
Price Range: $150 – $200 per night

Website: www.kaurabali.com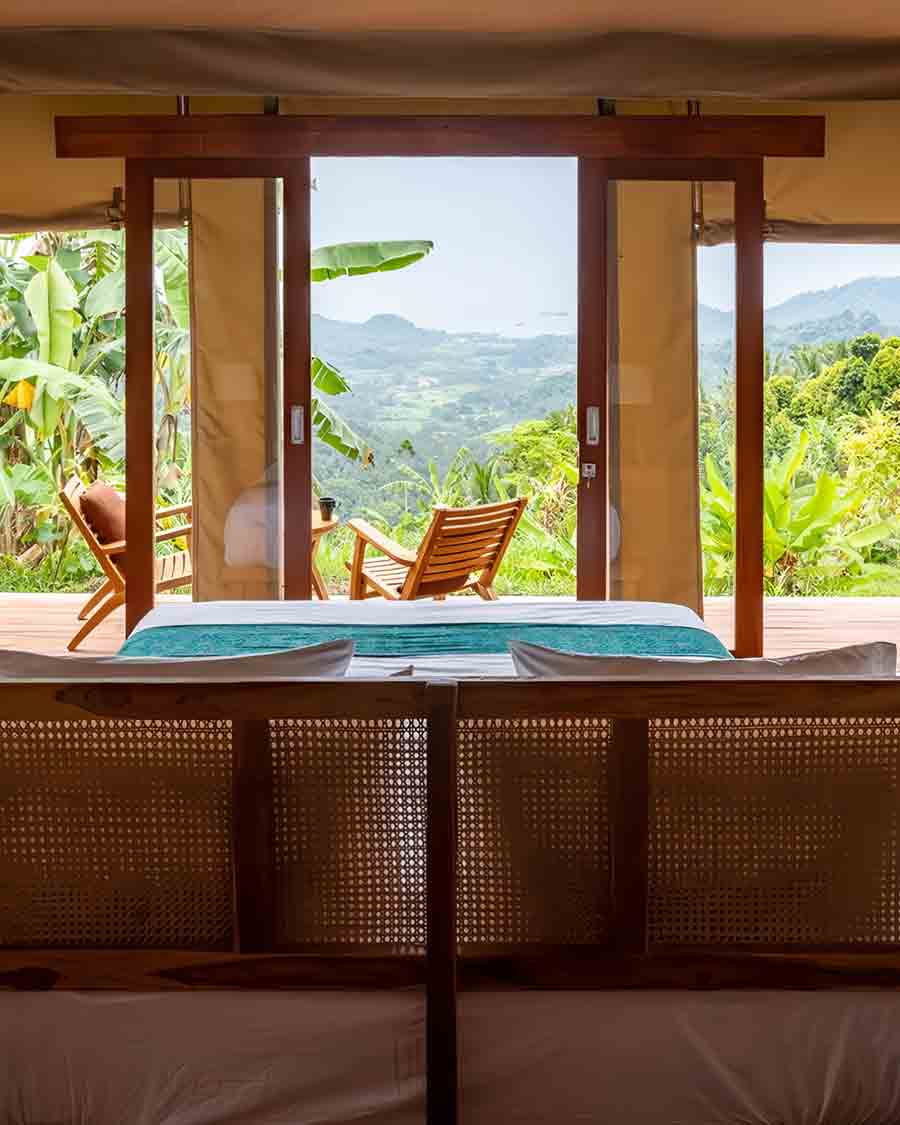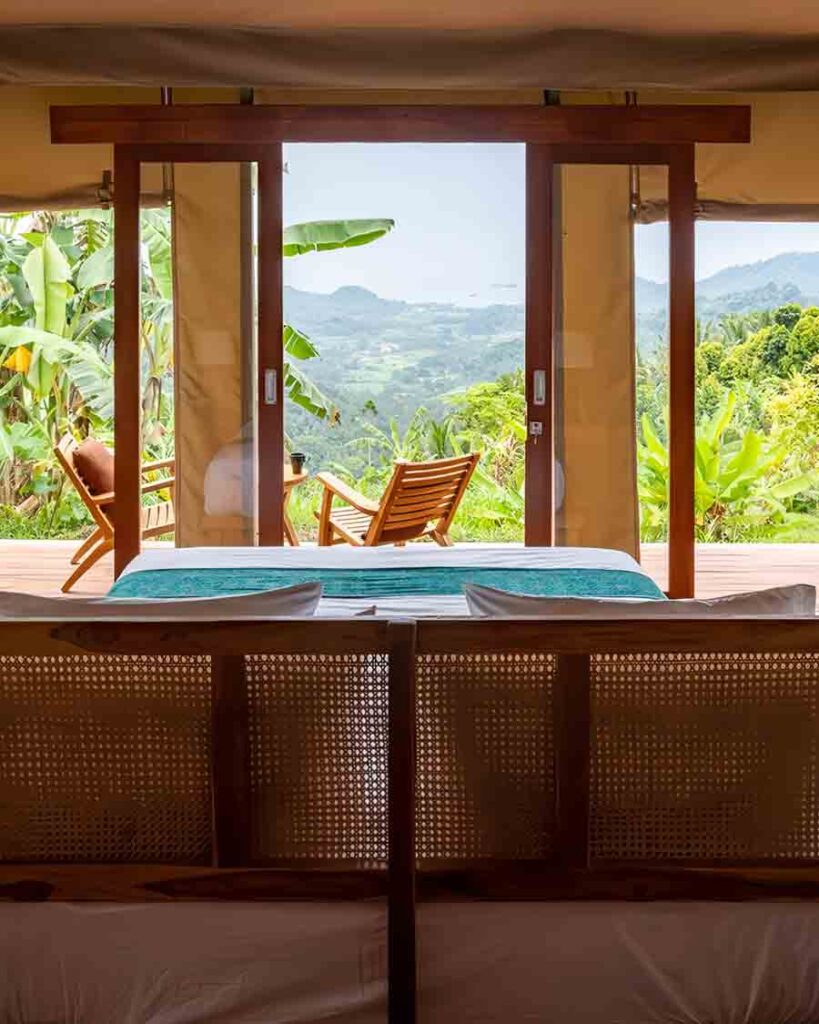 We hope you enjoyed this article about the 6 best Glamping adventures in Bali. If you have more insights or recommendations about glamping in Bali, feel free to share in the comments below.
Don't hesitate to contact us for visa tips and motorbike rental to make your Bali adventure even more memorable!